WordPress is a great platform to create any kind of website or blog. But mostly by creating a website or blog on it, our goal is to reach its content to as many people as possible. But have you ever wanted to create such a WordPress blog, which is only yours? That is a blog whose content only you can see and no other person in the world can access your blog content.
Basically, the idea here is to create a private WordPress blog. Now you will say that what is the advantage of creating a private WordPress blog?
See, there is no benefit in terms of money. But there can be many other reasons for a person to create a private WordPress blog, such as:
Writing a blog like your personal diary.
Creating a blog for your company or organization, which only the internal people of your company can read.
There can be many other reasons like this.
Today I will tell you in this article how you can make the entire WordPress blog private and I will also tell you how you can make a particular post or page of the blog private.
How To Make Complete WordPress Blog Private?
You have to install a plugin for this, which is named My Private Site.
Install and activate this plugin. (How to install WordPress plugins?)
For this you have to follow the total 4 posts given below:
Step 1: Turn on Private Site Functionality
In your WordPress Dashboard, go to Settings → Private Site.
Check the box with Private Site.
Then do Save Changes.
Now your site has become private. Anyone who will not have an account on your website or who will have an account but will not be logged in will see the login page only.
Now there are many more things that you can configure in terms of this.
Step 2: Choose whether people can register on your site or not
Scroll down to Allow Self-Registration and choose whether people can create an account on your site or not.
If you check the box, then the site will be basically public, because someone can view the content by creating an account on your site.
If you do not check the box, then you will have to manually create an account for the users, and only those users will be able to log in and view the content of your site.
Step 3: How Users log in to Your Site, This Thing to Control
In the Custom Login section in the Landing Location, you can:
You can choose which page to send the user to after logging in.
Instead of using the default WordPress login page, you can also create your own login page.
Step 4: Publicizing Some Pages
If you still want to keep any of your particular content public, then you can use the Visible Exclusions feature.
You can make your homepage public.
Can make a specific piece of content public.
By using the URL prefix feature, only an entire category can be made public.
Making Particular Post/Page private or Password protected
You can make posts or pages in WordPress password-protected private on an individual basis.
How to make a post/page private?
This is very easy. Edit any post. (Open Visual Editor)
In the Right Sidebar, in the Publish column, click on the edit link with Visibility.
You will have three options in front of you.
Public
Password Protected
Private
You have to choose the private one, then by clicking on the OK button, update the post.
Any private post will be displayed on the frontend of the website with the prefix label "Private:" and will be displayed only to logged in users.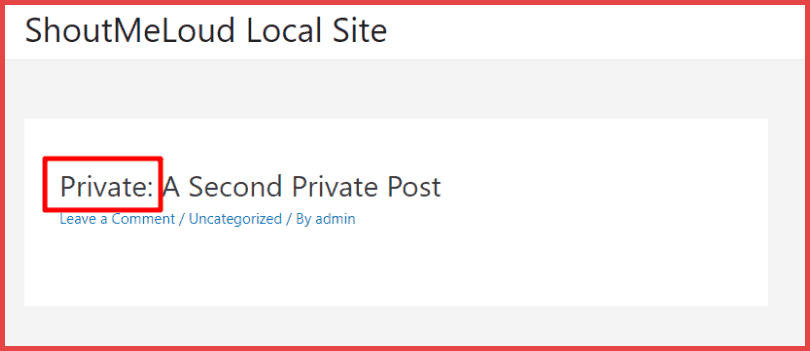 Note: You can also show private posts only to logged-in users with a particular level by using plugins like User Role Editor. But this step is only for advanced users.
How to Make a Post/Page Password Protected?
In the above section, out of the three options, you have to select Password Protected for this case. Then you have to enter the password in it.
After this, by doing OK, update the post.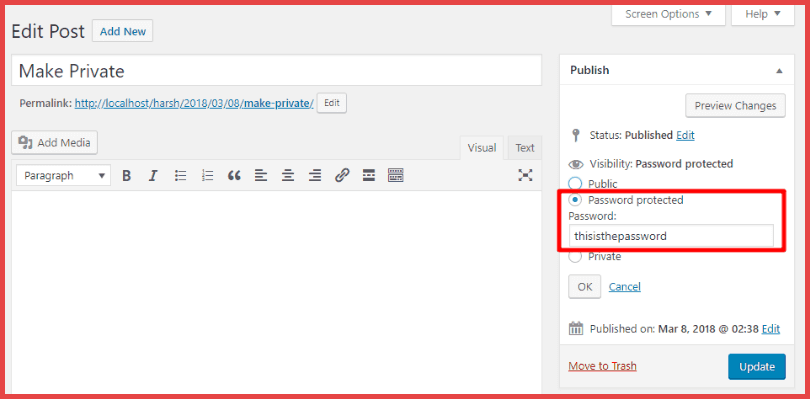 All password-protected posts will be shown in the frontend with the prefix label "Protected:" and one has to enter the password to view them.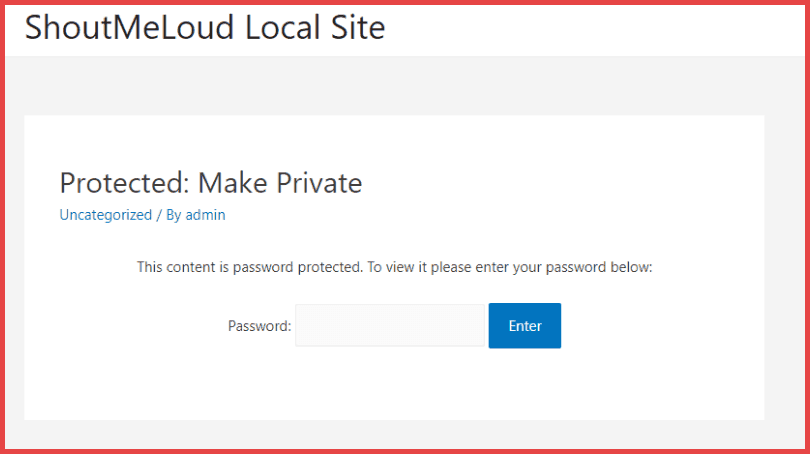 Do you also want to create a private blog? If yes, what are your reasons behind it? Tell in the comments.
Subscribe to us to keep reading more such informational posts and to receive notifications about new blog posts. Comment below to ask any kind of question-related to this blog post.
Tell me if you have any questions related to this post?